Introduction
Salesforce is a customer relationship management (CRM) platform that helps businesses manage and analyze customer interactions and data throughout the customer lifecycle. It includes a range of tools and features for sales, customer service, marketing, commerce, analytics, and more. The platform is designed to be customizable and scalable, so that businesses can tailor it to their specific needs and grow as their needs evolve. Salesforce also offers a range of integration options, allowing businesses to connect the platform to other systems and applications.
Table of contents: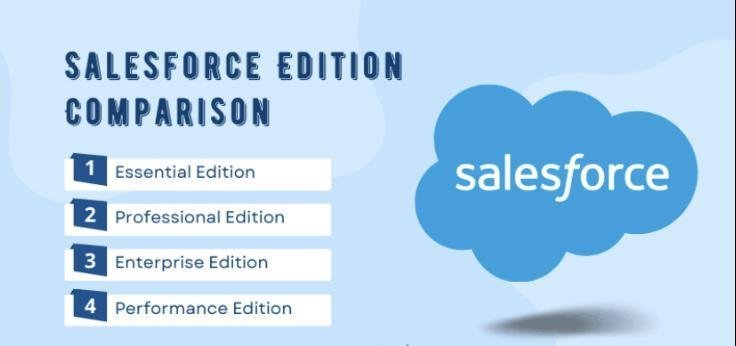 What is Salesforce?
Salesforce is a cloud-based software corporation whose products help organizations increase their lead generation, sales, and customer satisfaction. 
Salesforce, Inc., headquartered in San Francisco, is a supplier of cloud computing & social enterprise SaaS. Starting out as a provider of a customer relationship management (CRM) platform, the company was founded in March 1999 by ex-Oracle executive Marc Benioff, Parker Harris, Dave Moellenhoff, & Frank Dominguez. Over time, Salesforce evolved into a SaaS powerhouse by providing a variety of cloud platforms for usage in many industries. By August 2022, Salesforce had reported a 22% year-over-year increase in revenue to $7.72 billion. 
Salesforce's fundamental promise is to provide low-cost customer relationship management software via an internet service. Before Salesforce came around, businesses had to spend a lot of time & money hosting CRM software in-house or using local resources. 
For Candidate who wants to advance their business Inteligence skills, Salesforce Developer Training is the best option. For a monthly fee, users have access to Salesforce's cloud-based database, which can be accessed from any computer or mobile device with an internet connection.
The main components of Salesforce include:
A suite of tools and features for managing sales activities, including leads, opportunities, and accounts.
A set of tools and features for providing customer service and support, including case management and live chat.
A platform for creating and managing marketing campaigns across various channels, including email, social media, and mobile.
A platform for building and managing online stores and e-commerce websites.
A suite of tools for analyzing and visualizing data from across the Salesforce platform.
A platform for building online communities and portals for customers, partners, and employees.
A marketplace for buying and selling third-party applications that integrate with the Salesforce platform.
What does Salesforce do?
Salesforce provides a suite of products allowing marketing, sales, IT, e-commerce, and customer support departments to better communicate with their clients. One way in which companies are gaining a more holistic understanding of their customers is through the use of apps like Salesforce's Customer 360. 
By analyzing customer data, Salesforce CRM is able to deliver useful insights into consumer behavior and demands. Salesforce unifies all of a company's customer data in one place, so that every contact a customer has ever had with the company can be seen in context.
Why is Salesforce used?
Regardless of size or sector, businesses can use Salesforce to gain a greater understanding of their consumers, strengthen their relationships with them, and expand their client base. Incorporating Salesforce within a company's ecosystem enables cross-departmental and cross-device collaboration on customer views. 
Salesforce's automated workflows, cloud-based data management, and real-time monitoring of customer analytics allow for a comprehensive view of the customer journey. SalesForce claims that more than 150,000 enterprises, ranging in size from sole proprietorships to the Fortune 500, employ its reliable and flexible cloud service. 
Pardot, now known as Marketing Cloud Account Engagement, is a Salesforce business-to-business (B2B) marketing automation tool that aims to improve sales intelligence, equip businesses with effective marketing resources to increase the quantity and quality of leads, automate lead qualification & nurturing, and measure the effectiveness of marketing campaigns.
Benefits of Salesforce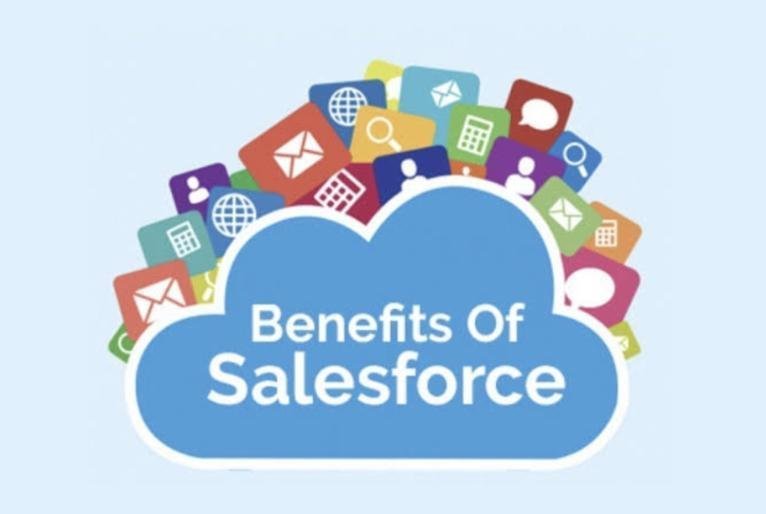 The products offered by Salesforce are geared toward assisting businesses in achieving their goals of increasing customer satisfaction & meeting consumer expectations. As an example of why Salesforce is so popular, consider these perks: 
All of your customer data & planning tools can be found in one place with Salesforce. It's a time saver for businesses because employees won't waste time digging through logs as well as other documents. Setting meetings, organizing projects, and keeping tabs on leads in order to convert them into clients as quickly as possible are all facilitated by the built-in calendar feature. 
Without Salesforce, businesses would have to manually go through massive amounts of data, a time-consuming and error-prone process. Businesses that use Salesforce save time formerly spent on administrative duties & put that effort toward fostering meaningful connections with clients. 
Salesforce provides a secure cloud-based platform for companies to access their data and communicate with their customers from any location with an internet connection. Salesforce's mobile app is compatible with many different operating systems & devices. Owners who must always be on the move or who must travel regularly may appreciate this feature. 
Team members may easily and quickly communicate with one another using Salesforce Chatter. Members of the team can work together on projects, either independently or in smaller groups, and members of other teams could be added to tasks or projects that demand more involvement. 
The structure underneath Salesforce may quickly expand to meet the requirements of growing organizations and their patrons. 
Many other programs, such email clients and financial calculators, can be seamlessly connected with Salesforce. Salesforce's compatibility extends to Google Cloud, Facebook, Turbotax, Twitter, MailChimp, Dropbox, & Heroku, among many others. 
Salesforce organizes & keeps tabs on all of your company's important data, including but not limited to social media, media files, website analytics, and business software. This function was developed to effectively sort and examine massive data sets.
Salesforce use cases
The number of merchant and customer users on the PayPal online payment platform has exploded in recent years, now above 400 million. Without a central hub, it's difficult to keep track of such a large number of accounts. Using Salesforce solutions, PayPal was able to centralize its disparate CRM systems, teams, and procedures to boost data quality & visibility across the company. 

The American Express company has been using Salesforce for quite some time, making it one of the longest-running customer relationships in the company's field. American Express began collaborating with Sales Cloud in 2010, and now the company uses the Salesforce Customer 360 Platform to provide seamless, real-time connectivity for its customers. 
The Japanese conglomerate utilized Salesforce to keep tabs on its expanding sales force & gain insight into its workforce and clientele. Canon also required a method through which to evaluate how its offerings were received by the public. Sales agents from Canon have been able to keep their managers up to date on the status of their interactions with customers as well as the insights they were gaining because of Salesforce's real-time nature. 
Amazon Web Services (AWS) 
There is a strong alignment between AWS & Salesforce, and many Salesforce products are hosted on AWS. In addition to using AWS to increase Salesforce's potential, clients can also construct on AWS to do so. The collaboration between Amazon Connect & Salesforce Service Cloud Voice, for instance, has been extended. Because of this synchronization, agents in contact centers now have access to all the resources they need to give superior service to their clients.
Salesforce cloud services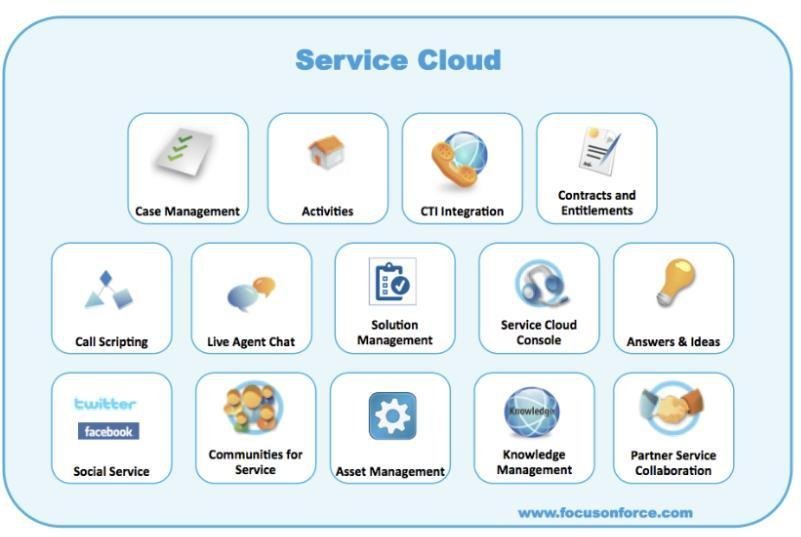 Among the many products & services available from Salesforce are customer relationship management (CRM) software, sales and marketing management tools, and cutting-edge analytics. With Sales Cloud, Advertising Cloud, Cloud Platform, Experience Cloud, Commerce Cloud, & Analytics Cloud, Salesforce CRM is the company's flagship cloud platform and application. 
The App Cloud, IoT Cloud, Financial Services Cloud, Health Cloud, Integration Cloud, Manufacturing Cloud, Education Cloud, Nonprofit Cloud, & Vaccine Cloud are just some of the other Salesforce cloud products designed for specialized industrial applications. 
The following are some of the most notable aspects of Salesforce's cloud services –
As opposed to focusing solely on customer service, sales teams can do so much more with Salesforce Sales Cloud. 
Among Sales Cloud's primary functions are: 
aids in maintaining an up-to-date database, 

nurturing leads, 

monitoring campaign success, 

automating complex business procedures, and more. 
With Salesforce Marketing Cloud, you can automate your marketing operations and centralize all of your marketing channels in one convenient location. 
The Marketing Cloud's primary functions are as follows: 
to automate the output of market information into databases; 

to personalize email campaigns at scale; 

to interact with mobile messaging & mobile apps; to link social to marketing, sales, & service; 

to facilitate the management of advertising campaigns for the purpose of boosting new customer acquisition; 

to provide personalized & efficient web content; 

to produce individualized customer travels across channels.
Conclusion
The Internet of Things (IoT) is still in its infancy, hence the wage structure for professionals working in the industry is not yet well defined. But an Internet of Things division exists under Salesforce's existing business models. Salesforce's innovative nature is highlighted here, which is saying a lot about the company. Salesforce and Amazon Web Services both provide reliable cloud management. Along with Internet of Things support, Salesforce also incorporates artificial intelligence features in the form of Salesforce Einstein. Salesforce was late to the cloud services game, unlike AWS, which started early and is now dominant. However, it has overcome its rivals and emerged as the industry's preeminent CRM service. By the way, thanks to its flourishing trade, it plans to maintain its leadership position for the foreseeable future.
Author Bio
Archit Gupta is a Digital Marketer, and a passionate writer, who is working with MindMajix, a top global online training provider. He also holds in-depth knowledge of IT and demanding technologies such as Business Intelligence, Salesforce, Cybersecurity, Software Testing, QA, Data analytics, Project Management and ERP tools, etc.