Off-Page SEO: Importance
Off-Page SEO optimization techniques are very important to your search engine rankings. The on-page part of your business's SEO will only get you so far. There are several off-page aspects of search engine optimization that are just as important as the on-page part of your website's marketing strategy, if not more so. This article will discuss several of the most popular off-page search engine optimization techniques that work well, including some that you may not have heard about before.
Link Baiting
Link baiting is one of many off-page search engine optimization (SEO) techniques that can help to improve your online visibility. With link baiting, you create compelling content in order to get other sites to link back to yours. To be effective, you need fresh, high quality content; it needs to be relevant and useful. You also need patience! Successfully attracting links takes time and commitment.
Guest Posts
Guest posting is an off-page technique to build backlinks. It can also help you get natural links, social shares and traffic to your website, which helps improve your search engine rankings. You can guest post on websites with similar or related content to your business's industry. Look for sites with decent Domain Authority (DA) scores of around 40 or higher; for example, Wikipedia has a DA score of 81.
Resource Boxes
Linking to blogs in your resource box will help improve your site's reputation with search engines. These off-page seo techniques are extremely effective, but they're also time consuming. Therefore, you should try to build at least 10 strong backlinks per month (although if you have more time on your hands, feel free to put in more effort). You should also try to get other people to share your content on social media sites like Facebook and Twitter.
Social Media
Reach out to relevant influencers and websites and ask them to share your post with their followers. This will increase your chances of gaining new followers, as well as ranking on Google's first page. If you're not familiar with social media sites like Facebook, LinkedIn, Twitter and others, invest some time to learn how they work. Reach out to industry leaders or professionals within your field and become a thought leader on these platforms.
List Building
One of the best Off-page SEO strategies is list building. Sending your content to a group of trusted bloggers, Webmasters and social media mavens will help get people talking about you—and using your product or service. You can also offer to send them one or two sample products in exchange for them telling you what they think. It's an easy way to collect feedback while increasing brand awareness in your target audience!
Video Marketing
If you can spare some resources, consider creating a video on YouTube or Vimeo. Videos are an engaging way to connect with new customers, and they're also great for Off-Page SEO optimization—you can link to them in your social media profiles, website, etc. A study conducted by Compuware found that 94% of users who watched a video about a product were likely to buy it. Make sure you follow all copyright laws!
Social Signals
Sharing content with your social media followers is a must for effective off-page SEO. It's a simple way to let people know about your new, relevant content without actually having to leave a link on their site. When you share your content with Facebook, Twitter, and LinkedIn you open yourself up to new audiences who may have never heard of you before. You also spread awareness by including a brief message about what's been shared.
Lead Generation Strategies
This isn't actually an off-page technique, but if you want to be visible on social media and rank for any of your local area searches, make sure you're using all of your profiles on all your social accounts. No one is going to click on a profile with only three followers and no tweets. Invest time into each of your accounts and get involved in communities within your niche. Be active, reply to people who comment or retweet you, get yourself out there!
Social Bookmarking
One of the easiest ways to begin growing your Off-Page SEO is by social bookmarking. Social bookmarks allow you to contribute valuable content and earn valuable links and traffic. When contributing to social bookmarks, be sure to fill out all fields and include a link back to your website or industry-related resource. A simple Google search for add URL will help point you in the right direction.
Local Events
Make sure you share your content on social bookmarking sites. Google values social signals highly, and will reward websites that are receiving regular likes, votes and comments with better rankings in their search results. And while links from social media networks like Facebook and Twitter pass less PageRank than links from traditional directories (like DMOZ), they can still be very effective for building your brand's reach with an audience who is more likely to engage with your content.
Brand Mentions
In order to get on page content, you need to get on page links. There are a variety of ways to accomplish on-page links, but if you're new or trying to establish your reputation in a given field, getting mentions from authoritative blogs is a great way to get recognition. Start off by finding popular blogs in your niche and sending them emails introducing yourself and offering a few of your insights about their topic.
Offline Ads
One of your best Off-Page SEO techniques is your ability to get other bloggers and industry leaders to mention you in their content. This is part of something called influencer marketing, which refers to leveraging trusted individuals within your niche to promote your brand or product. These brand mentions don't have to be paid; however, they should align with what your target audience cares about.
Video Submissions
The key to video submissions is not only providing useful information but also giving your target audience an incentive to share it with their friends. Give them a reason to pass along your content—and reap the benefits of viral marketing. So, if you're looking for ways to give people more reasons to share videos, here are seven tips for improving video marketing
Press Releases
The first thing you'll need to do is draft a high-quality press release (at least 300 words long) about your business and its offerings. The goal here is to get valuable links from reputable news outlets and give them great content for their website—not just blast your company name across a big domain like The Huffington Post or TechCrunch. Once you've written your release, send it out to as many sites as possible.
Reviews and Testimonials
Getting reviews is an Off-Page SEO technique. If you're running a local business, asking for reviews from past customers is crucial; even if your business isn't local, it never hurts to ask. You can also go above and beyond with testimonials—the more people you have talking about your brand in public, the better. If you want some inspiration for ways to implement testimonials, check out how companies like Google use them on their site.
Wikipedia Backlinks Being Best Off-Page SEO Technique
Wikipedia is a great site to work with. It's been around for over a decade and has developed an effective reputation as a trusted source of information. As such, creating backlinks from Wikipedia can be one of your best bets at increasing rankings. Backlinks from sites like these are powerful because they carry a lot of authority. If you want to rank higher on Google, you need all the help you can get – and using Wikipedia backlinks is a great place to start!
Image/Infographic Submissions
Infographics are among some of most shareable content out there, and an easy way to get additional link authority is by creating them. Even if you aren't a designer, tools like Canva make it easy to create quality images for your website. Plus, it's important not to forget about image submissions on platforms like Reddit—one of my favorites. Another tool you can use here is called Simply Measured.
Influencer Marketing
Sites like SlideShare and Scribd allow you to post links to your document, which will help you get better rankings in search engines. Once you have a document posted on these sites, share it with a link to your social media channels or via email. The more times people click through on a link, the higher you'll rank for key phrases in Google's search engine. It helps if your presentation contains interesting images and graphic elements to keep it eye-catching and scannable.
Submission to PPT/Document Sharing sites
The world of marketing is changing, and smart marketers are taking notice. There's no denying that influencer marketing is a huge factor when it comes to social media success, so many marketers are quickly jumping on board. But what does influencer marketing actually mean? And how do you utilize it to gain success in your business? Here are some of our top tips for using influencer marketing as part of your overall strategy.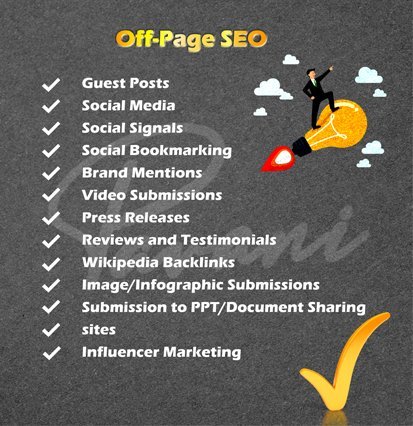 FAQs
What are the best off-page SEO techniques?
There are many off-page optimization techniques that work to improve your site's search engine rankings. These include backlinks, social media activity, and content marketing. It is a good idea to use a combination of these techniques to maximize your efforts. If you don't have time to do all of them, consider focusing on one or two over others. That way you can create a strong foundation for your site's future search rankings.
What is the most popular and effective off-page SEO method?
If you search Google, what is off page seo? then first result will come from Wikipedia and it says: Off-page search engine optimization (SEO) refers to all actions off a website with respect to influencing its ranking in a search engine's results pages. That includes link building, creating content on other sites, obtaining mentions of a site in news articles or blogs, social media activities etc.
Which are the best off-page SEO techniques for 2021?
It is generally accepted that some off page SEO techniques are unethical, and they should be avoided. For example, link manipulation is widely considered to be manipulative, so it's best to avoid these techniques even if they seem like they might work for you. However, there are plenty of other off page SEO techniques out there than can be used safely and effectively to help your site rank higher in search results.
What is the most important off-page SEO activity?
Emailing your best customers to let them know about new products and services you offer, asking for referrals, and following up with existing customers on their experience with your company are some of the most important off-page SEO activities. These simple tasks can dramatically increase sales by leveraging your top customers to spread positive word of mouth about your business.
Which SEO techniques should be avoided?
Link building can seem a bit complicated, but it doesn't have to be. In fact, one of its main tasks—to help Google establish a website's trustworthiness and reputation within a particular niche—is actually pretty simple. Here are some off-page SEO techniques you can use to build links and improve your site's credibility over time. Each one is quick and easy to execute. Not all of them will appeal to everyone, so pick and choose as necessary
What are the SEO techniques?
Off-page search engine optimization is a set of techniques used to raise a web page's rank in a search engine's natural (unpaid) search results. The techniques, which include social media interactions and backlinking among others, are intended to improve a site's visibility in search engines.
Top 3 Ways to Increase Social Media Traffic