Have you ever heard about AI-copywriting tools, and are you looking for AI-based copywriting tools as a beginner? If your answer is yes, then you are at the right place. Copywriters and companies both have the challenge of writing content for marketing, which is not a simple process. It is almost always justified to charge more than $10,000 for a high-quality piece of copywriting. Today, due to advancements in A.I., the copywriting process has become easy. Copywriting technologies can assist human copywriters in writing high quality content quickly and effectively.Companies are using these technologies, and as a result, they can no longer need the services of a copywriter.Bloggers, copywriters, and content marketers at small and multinational businesses are now using these AI-based tools for their professions, including creating online content, blog posts advertisements and emails.
What is Copywriting?
The process of writing texts for use in advertisements or other forms of promotional content is known as copywriting. Copywriting, an essential part of content marketing, combines written words with marketing to sell products or services. Consider the act of copywriting to be similar to that of creating a call-to-action but on a much greater scale. The purpose of copywriting is to create feelings or emotions in clients and buyers that will grasp their attention to purchase one of your goods or services. In marketing and branding, copywriting is used in a variety of ways. This includes advertisements that are shown on the internet as the content of websites, email newsletters, print advertisements, and landing pages.
What are These AI-Based Copywriting Tools?
AI-copywriting tools use artificial intelligence and other technologies to create various content versions automatically for you. You just need to provide the tool with a few specific keywords or phrases so that AI-based copywriting tools will be able to get a sense of what you want to write. When the tool has the context, it will only produce one copy of that content, but it can also generate several copies in a short time. The content produced by these tools has a high readability score such that it genuinely gives off the impression that a human being writes it. While this is the specific working of a type of AI tools, there are other varieties as well. Some tools merely rephrase the entered content while some tools only give out ideas and concepts for writers to expand on.
Advantages of using AI-Copywriting Tools
The usage of copywriting tools based on artificial intelligence comes with a number of important advantages, some of which are listed below:
AI-copywriting tools are advanced, simple, and effective tools. They can generate a number of copies of the content in a very short time. On the other hand, as a beginner, if you want to try to create the content on your own, it would take a few hours to complete the task. Therefore, it is fair to state that it enables you to save time.
In addition to this, the use of these tools saves your money. Most of the time, we pay a lot of money to hire copywriters to create marketing content as owners of a company. And in this way you have to pay salaries to your writers. But when you use AI-copywriting tools, these copywriting tools will do the same task for you at a much lower cost than human copywriters.
You can use AI-copywriting tools for a variety of purposes. Because these tools provide amazing features, they are commonly used to write blog entries or create sales pages for websites. If you choose any A.I. tool, you can be sure that it will provide you with a variety of optimized features that you can use for a variety of purposes.
These tools have a very high degree of accuracy. They are able to produce text that is grammatically and punctuation-wise correct. This is due to the fact that they use artificial intelligence to examine the text and identify the appropriate spelling and grammar for each phrase.
5 Best AI-Based Copywriting Tools for Beginners
This free application is a powerful AI-copywriting tool available, and it's based on natural language processing (NLP). It can rephrase whole paragraphs as well as a single sentence. This AI-based paraphrasing tool preserves the content of the original text while altering the sentence structure. This paraphrasing tool is an online tool for paraphrasing that offers amazing features, such as rewriting essays and rewording articles. This tool for rephrasing sentences and changing words works most effectively. It will rewrite a sentence in a way that is understandable. The final piece of writing will be free of plagiarism, and readable. When you use this copywriter, you will see a text box provided into which you will type or paste your content. After that, it will scan or analyze it completely. To rewrite the article, it will use suitable synonyms to modify the content. This will result in a paraphrased version of the data with the same meaning as the original form.
Key Features of Paraphraser.io
There are many advantages and disadvantages to using an online tool. You can't find every feature included in any of the tools. You will need to pay for the tool if you want to make use of all of the features.But, this free online tool gives all of the amazing features that will assist beginners in creating content and acquiring more visitors to the website. Let's have a look at its amazing features:
Paraphrase.io is a web-based tool but easily accessible on mobile devices. This web-based copywriting tool is easily available on all operating systems, including Android and iOS.
You will find that using this tool will help you in saving time. You can easily save your time and effort by using Paraphrser.io rather than trying to think about unique structures and words to create fresh content.
This amazing tool is charge free. There will be no need for payment or subscription. Simply open the tool and copy-paste your content into the input box. However, if you want to use the Creative and Smarter mode, you will have to purchase the paid plan.
Create Error-Free Content  
As we are human, when we write content manually, it's possible to make a lot of mistakes. By using this tool, you will be able to create an article that will be error-free.
With wonderful features, this tool can be used to assist in creating content that is unique and error-free. However, this tool allows its users to paraphrase 500 words at a time. But, if you want to increase it to 1,000, you can buy the paid plan.
2: 
Writesonic
Writesonic is another wonderful AI-copywriting tool that is one of the best options for beginners. The users said that this tool is quite helpful for them in handling workload. Over 10,000 users presently make use of this copywriting tool in order to create various forms of content.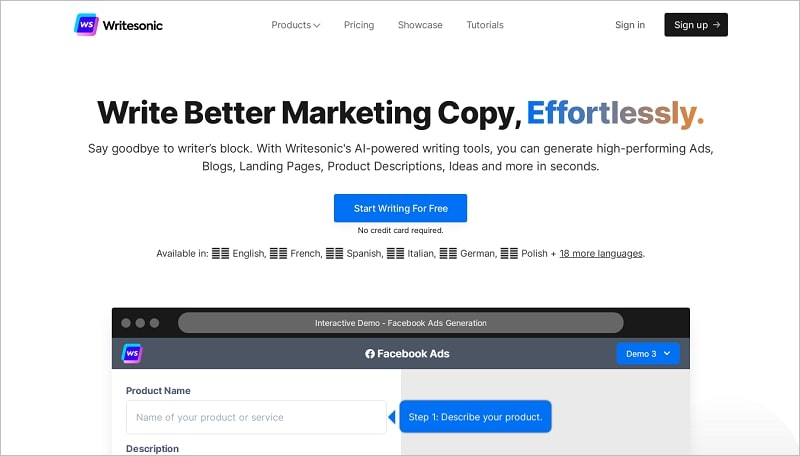 Key features
Here we are going to discuss some features of this AI-copywriting tool that make it an excellent option for beginners.
Support Multiple Languages
Writesonic enables you to produce content in 25 languages worldwide, which helps you communicate effectively. Some of the languages included are English, German, Italian, French, Spanish, Polish, etc.
GPT-3 is the most advanced technology currently available for artificial intelligence and is used by Writesonic. It is essentially a language learning model that makes suggestions and generates content like a human writer.
Automatically Corrects Grammatical Errors
Writesonic includes a grammar checker to ensure the first impression you make is positive and long-lasting. If there are any grammatical errors in the content that is generated by the tool, it will automatically detect mistakes and suggest how to correct them.
Writesonic creates content that is easy to read and understandable for its reader. It will ensure that the content conveys your message clearly. The content is high-quality, error-free, unique, and has a high readability score.
3. Wordtune
Wordtune is the most effective artificial intelligence copywriting tool available. It comprehends the message you are attempting to convey and offers suggestions for improved phrases or sentences that will make your writing more engaging and clear.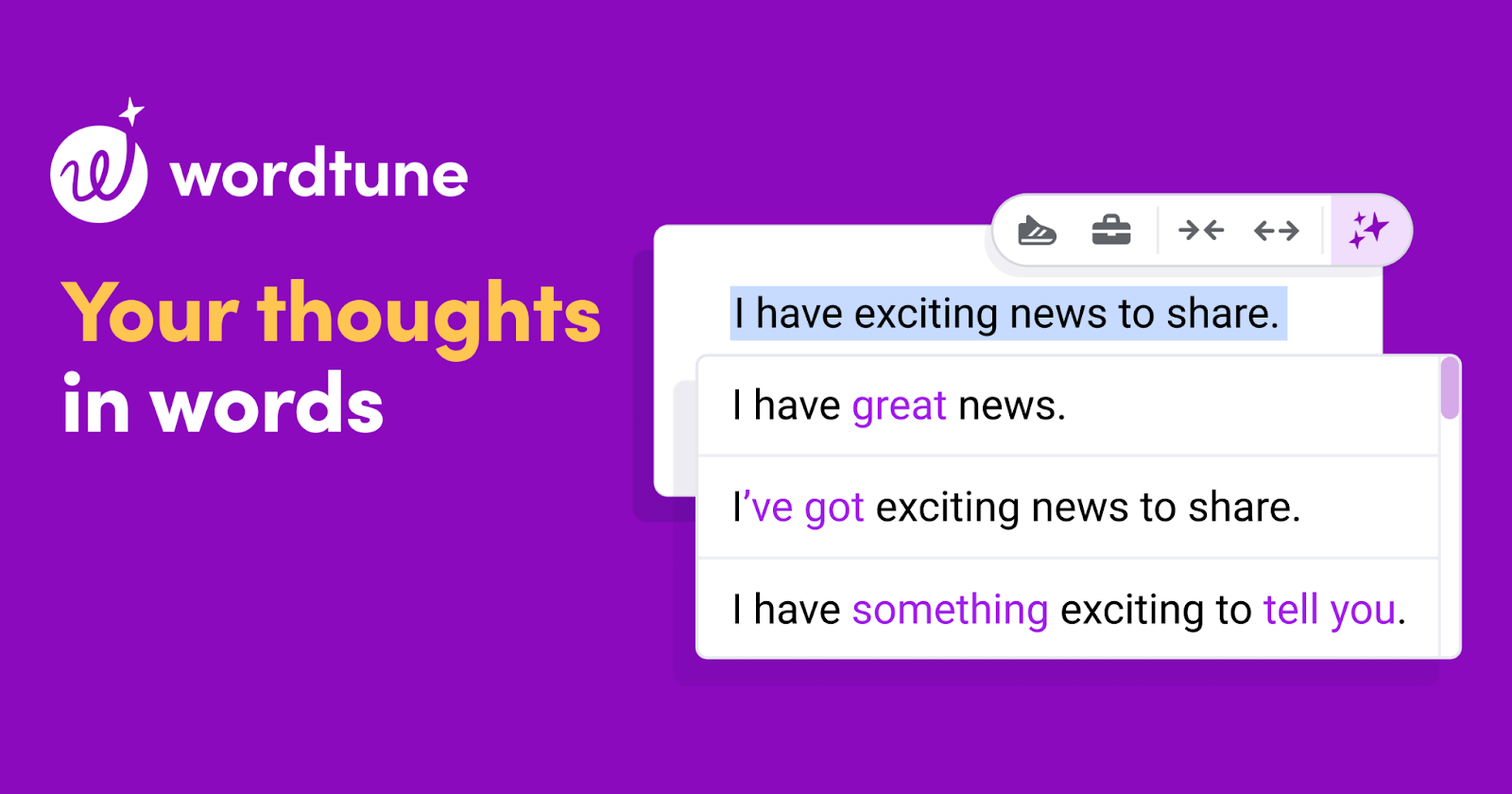 You can write up to 20 sentences for free each day with the free plan. You can choose this plan if you're just starting out or would like to see how this tool works. Wordtune is compatible with all of the most popular platforms, such as Google Docs, Facebook, the Whatsapp Web app, Gmail, and LinkedIn, among others.
The best thing about Wordtune is its "Rewrite" editor, which is included and available for free to anyone. It may be challenging to edit articles and make them easier to read. Wordtune is an exceptional piece of tool that simplifies the process by making editing articles simpler.
How does it work?
The method of getting started with Wordtune is easy and simple. Here are some steps that you have to follow:  
To begin, you will need to download and install the extension for the browser that you are using, such as Chrome.

You can login with your Google, Facebook, or email account.

After that, you will be given a brief set of questions to answer, and then you will be shown how to use the tool.

Then, anytime you want, you can just access the website where you write, such as Google Docs, Microsoft Office, Microsoft Word, LinkedIn, and any other platforms, and enjoy its amazing features.
Key features:
Casual tone:

 

By using this tone, changing content to an informal sentence makes it casual.

Formal tone:

 Text with a formal tone sounds more professional and official. This is the tone that you would use if you wanted to write a letter to your boss or write an academic paper.

Shortening:

 It will shorten your sentences by using some words. Make your sentences shorter to fit as much information as possible into the shortest possible space.

Expanding: 

It will help you when you want to write a topic in as comprehensive and lengthy a way as possible, without turning the text into much irrelevant information that is unnecessary.

Rephrasing

: Provides alternatives and improved wording for the same sentence.
Wordtune also offers an editor with its own version of the tool, which functions in a manner somewhat similar to that of Grammarly. It is very remarkable that Wordtune is an online editor that can translate and rewrite phrases from nine different languages into English.
Wordtune is incredibly simple and easy to use. You can use Wordtune whenever you want. Not only is it very simple to use, but it is also compatible with other commonly used operating systems. All that is required is to choose the text, click on the Wordtune logo that appears on the top of the highlighted sentence, and choose one of the rewriting alternatives shown to you. It is simple to use because you can easily see all the functions on top of the selected sentence.
4. CopyAI
CopyAI is another one of the top automatic copywriting tools which is excellent for freelancers. The content and copy ideas it generates are so effective. If you are utilizing CopyAI, you will no longer have to worry about burden or creating high-quality content. You will never be late for a deadline if you are using CopyAI to produce content in a short period of time.
Key features
Now we are going to discuss the key features of CopyAI that prove why CopyAI is an excellent artificial intelligence copywriting tool.
CopyAI creates the content of the highest quality by using the GPT-3 writing model. This technique is included in the tool, which enables it to generate content as written by human beings.
CopyAI is a simple, advanced tool with a user-friendly interface, which is undoubtedly one of its best qualities. To generate new content, you must choose the kind of content you want to make, put in a few phrases, and then click the "Generate" button.
Extension for Google Chrome

 
It offers an extension for Google Chrome. CopyAI supplies you with a Chrome plugin that will make the process of creating new content simple and easy. Installing the extension in your browser is all that's required to start producing content from other websites.
5. Copysmith
Copysmith is a tool for copywriting that makes use of artificial intelligence in order to generate a variety of versions for marketing purposes. When you need to produce an effective text for marketing within a short period of time, you can utilize this A.I. tool.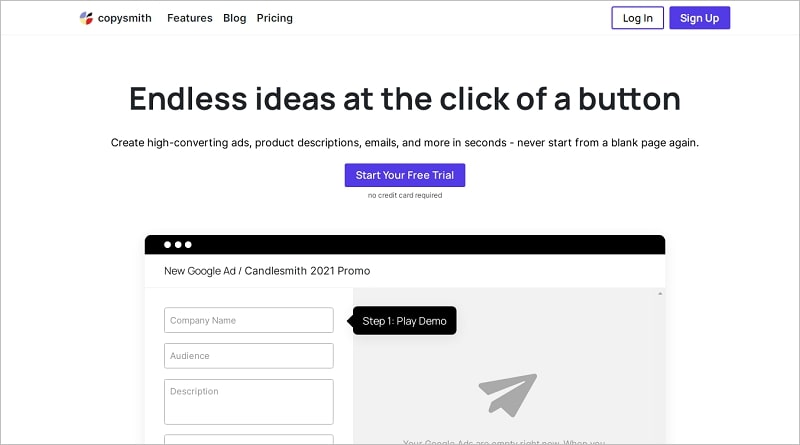 Key features:
Copysmith's user interface is quite simple, making it easy even for those who have never worked with this tool before. You only have to decide what kind of content you want to produce and then add a few lines or sentences to get the process started. After that, it will generate content on your behalf automatically.
Copysmith also applies the GPT-3 model, which is the third generation technology of the language analysis model. Copysmith generates text with a high level of readability with this artificial technology, making it seem as if a writer created the content.
This tool gives a great deal of attention to the task of content management. It provides you with the ability to manage your content in a variety of folders. This feature will be useful to you if you are a freelancer or represent an organization. It allows you to manage the content more efficiently.
If you are a part of a marketing team or represent an agency, you can simply collaborate with the other members of your team by sharing the information. You and your coworkers will be able to enhance the quality of the content you produce via the sharing of ideas and recommendations with one another.
Copysmith also includes a modern Chrome extension that you can download. You can quickly move ideas from your browser into Copysmith's workspace using this extension.
Copysmith's Shopify Plugin

 
The Shopify plugin of Copysmith is an excellent tool for composing product descriptions for your online store's products and goods. This feature is powerful enough to be used to generate unique and different product descriptions for a single item. It allows you to utilize a version that is distinct on your website and your Shopify shop.
Conclusion
In AI-based copywriting tools, artificial intelligence and other technologies automatically create different content versions for you. Above, we discuss the five best A.I. copywriting tools with their detailed silent features. It is time for you to choose one of them and begin using it so that it will automatically create creative content for you. If you may still be unable to select the ideal copywriter even after reviewing all their features. It would be best for you to take advantage of the paraphrasing tool by Paraphraser.io. Other tools also have their free plans, so you can also try their free plan to see how useful they are.